Oct 22 2019 - Starting up a new HomeLab project
Follow us on starting up a DIY project for a HomeLab. We'll post it step by step on our Facebook page
Oct 16 2019 - FREE Worldwide Shipping!
Becoming bigger and bigger comes with economy of scale... Now we offer FREE WorldWide delivery with our Economy shipping rate!
Oct 16 2019 - Two new Sail PCs added
Still highly requested by our sailing customers who don't want to ruin their laptops on board: Sail PCs!
Oct 10 2019 - Ducky One 2 mini RGB keyboard
Make your (often somewhat boring) mini computer a lot more fun with this fantastic mini keyboard, with all kinds of (also programmable) lighting colors.
Oct 4 2019 - Two Mini Computers added to our portfolio
Basically it's not so 'new', but we keep on getting requests for a 12V mini computer Dual-core with COM ports and suitable for Windows 7, and one 12V mini computer Quad-core with COM ports suitable for Windows 10
Sep 25 2019 - Brand new model Intel NUC on its way. We have a new developed 19 inch rack waiting for it...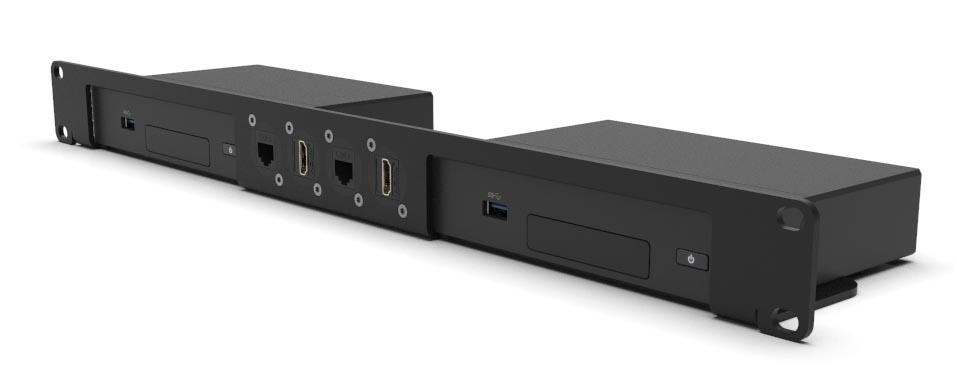 We expect it to be on stock early October. Keep me posted on new NUC
Sep 13 2019 -
Intel NUC mini PC NUC7JYH with 1.5HE 19 inch rackmount in one set
Finally this low priced Intel NUC Mini PC Celeron is in stock. Now complete with 19inch Rackmount!
Sep 11 2019 - New rackmount available for Hades Canyon NUC
Available as of now! 19 inch 1U frame for 1 or 2 Hades Canyon NUC'S NUC8i7HNK / NUC8i7HVK
Aug 13 2019 - Mac mini rack back in stock
New stock has arrived! Available as of now!
Aug 8 2019 - The very first Xeon NUC
Quartz Canyon is Intel's upcoming diminutive NUC workstation. Powered by either a Xeon E or an i7 vPro processor this turbocharged NUC features a PCIe x16 slot for a discrete graphics card. The case itself is very similar (identical?) to the more consumer-oriented Ghost Canyon NUC. 
As soon as more info (final form factor) comes available, MyElectronics will manufacture the Rack Mounts for it
Aug 5 2019 - Mac mini rack mount sold out
New stock is expected 2nd half of August. So if you want to get your hands on one soonest, send us an email for a reservation.
Aug 1 2019 - Mac mini rack mount selling out
Last weeks the Mac mini racks fly off the shelves. Almost running out of it now. New stock is expected 2nd half of August. So if you want one fast, better order now.
July 31 2019 - new picture for Mac mini rackmount
A bit more explanatory picture on how to use our Mac mini Rack mount with the 8-hole connector front
July 15 2019 - added Facebook Business Page
For all facts and stories around our store and products we can't put on the website. We can show how customers use our products and new projects we are starting up. facebook.com/myelectronics.nl
July 1 2019 - NEW Intel NUC
Intel has launched a 'new' NUC. It's not the 9th generation yet, but an update on the 8th generation NUC series. Though not really new, still interesting enough to mention.
It's a high model, which will seamlessly fit in our existing 19 inch 1.5U NUC Rackmount and our 19 inch 3U NUC Rackmount.
"Introducing the first Intel NUC with the latest 8th generation Intel Core processor and AMD Radeon 540X discrete graphics for all your gaming and entertainment needs. Play the latest casual games, binge watch the latest series, or stream digital music like never before with the latest quad-core processor from Intel that delivers 2x faster performance."
For details of this NUC have a look at Intel https://www.intel.com/content/www/us/en/products/boards-kits/nuc/kits.html